Piano Tuning, Maintenance & Repair
[two_fourth class="" last="no" ]
Qualifications
[list_bullet type="add" ]
In 2015 Andrew enrolled on the piano tuning and maintenance course at Newark College.
The first year of the course teaches the basics of piano tuning through to tuning an equal tempered scale as well as the techniques involved in refurbishing and repairing both upright and grand pianos.
The second and third years of the course continue the theme of constant tuning practice but include a full rebuild of an upright piano and a grand piano respectively.
In conjunction with this there is also a two year toolmaking course leading to an NVQ level 2 qualification.
[/list_bullet][/two_fourth] [two_fourth class="" last="yes" ]
[/two_fourth] [border ] [two_fourth class="" last="no" ]
Experience & Restoration
[list_bullet type="add" ]
To widen his experience of piano work in a professional environment Andrew spent one day a week during the 2016/2017 accademic year working at the world famous Broadwood piano works in Lythe near Whitby.
This has seen him involved with the restoration of an 18th century square piano for the National Trust of Scotland, along with a variety of pianos both of Broadwood manufacture and other reputable makers, both upright and grand.
Some of this work has involved visiting customers' homes to undertake refurbishments.
Andrew further widened his experience during the 2017/2018 accademic year working at Crown Pianos with Phil Taylor and Gavin Crooks.
Work here has involved him in the restoration and upgrade of a Bechstein model A grand piano for the Royal Concert Hall in Nottingham, replacing split action rails for a number of Steinway pianos and learning the skills involved in scaling and making piano bass strings.
[/list_bullet] [/two_fourth][two_fourth class="" last="yes" ]
[/two_fourth] [border ]
Alongside the refurbishment of a 1970's Welmar upright at Newark College, he is working on refurbishing an 1890's Bechstein upright to master the techniques involved and acquire the necessary tools to work outside of the college environment.
[two_fourth class="" last="no" ]
[/two_fourth][two_fourth class="" last="yes" ]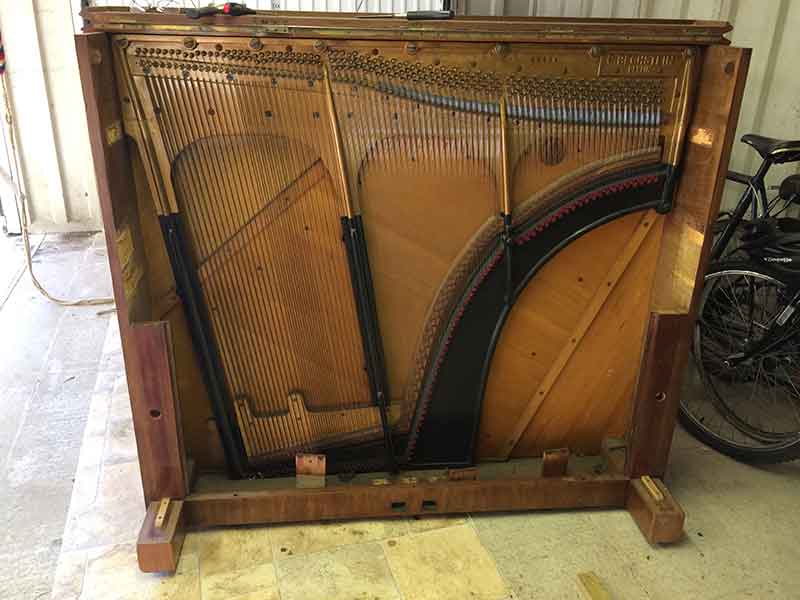 [/two_fourth] [border ] [call_two href="http://www.exaudite.co.uk/contact/" label_button="Piano Enquiry" class="call-to-action-two" colorstart="#000000″ colorend="#FFFFFF" colortext="#FFFFFF" icon_size="20″ color="jungle-juice-2″ align="vertical" width="normal" icon="icon-certificate" ]He has done tuning work initially for friends in his home area, but is expanding this business with new tunings on a regular basis and would welcome any new enquiries for tuning, maintenance or repair.

Andrew is a student member of the Piano Tuners' Association[/call_two]