Clocks
In the course of his bell inspections, Andrew was asked frequently about the clocks and what work was needed on them.  Although able to make an assessment on the condition of a clock, he recognised that this was an area of particular expertise and referred the customer to an appropriate clock maker to give an opinion. Although there is a seeming majority of clocks made either by Smiths of Derby and their associates or Gillett and Johnson of Croydon, Andrew came across clocks made by a wide range of manufacturers all with their own quirks.
Even in this day and age, it is not uncommon to find clocks that are hand wound on a weekly basis, alarmingly almost always by someone of advanced years and where access is anything but safe. It is more common to find clocks that have been converted to automatic winding; there is a wide range of equipment available to do this with varying degrees of invasiveness into the original mechanism. Where there are clocks of particular historical significance, the least intervention swith the mechanism the better; there are some very clever systems now available to do this.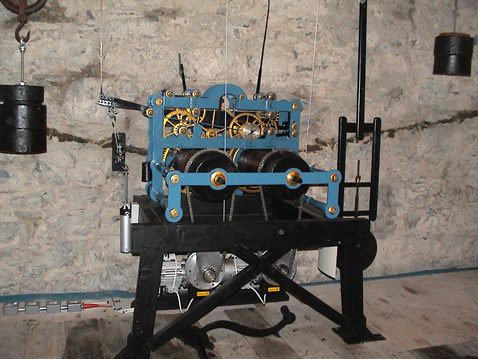 There are electronically controlled systems available that can replicate the operations of a pendulum clock and Andrew has been responsible for procuring and installing a significant number of these systems whilst at the Bellfoundry. Usually they would take the form of one or more electromagnetic hammers controlled from an electronic masterclock; he programmed these controllers to suit the customers' individual requirements. These could vary from a simple hour strike on a single bell up to a carillon of 25 bells with numerous tunes, quarter strikes, clock drives and individually timed events.
The Bellfoundry has a dedicated carillon tower (the original carillon was split up and the bells sold off in the mid 20th Century) and, over the course of several years, Andrew instigated the replacement of the original bells, gradually increasing the number of bells in the chime to its present number of sixteen. He programmed the controller so that there is a different set of quarter chimes each day of the week, tunes play at preset times throughout the day and, in December, a selection of carols are played. The system also controls a clock face through a dial drive motor.
Two notable installations that have utilised this system and Andrew's skills in programming, are the quarter chimes and hour strike at York Minster in 2000 and the new carillon at Holy Trinity, Hull, in 2013.
The York Minster chimes comprise of six new bells cast to commemorate the Queen Mother's 100th birthday; they play a unique set of quarter chimes based on the hymn tune 'York'. The hours are struck on 'Great Peter' by a motor driven mechanism operating the external drop hammer.
The carillon at Hull was inspired by a similar carillon installed a few years ago at the Guildhall, within earshot of Holy Trinity. Andrew programmed this system with Cambridge Quarters and hour strike as well as a 'rounds and call changes' sequence and the selection of hymn tunes requested by the customer.